Will Samsung steal the show with the Galaxy S IV?
99+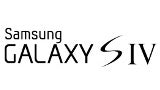 It's now just days before we finally get to see the
Samsung Galaxy S IV
in all its glory, and as you can imagine, we're super excited about that! Meanwhile, though, there's a number of smartphone manufacturers out there who're also eagerly awaiting the introduction of the GS IV, but with somewhat different feelings than ours. Of course, we're talking about HTC, LG, Apple, etc. - the companies who have some pretty ambitious high-end smartphones on the market right now,
smartphones that will surely try to make the GS IV's life hell
when it launches in a month or so.
But maybe Samsung doesn't have too much to worry about? After all, the South Koreans have grabbed more than half of the Android market and having in mind how popular the Galaxy S smartphone are, that situation probably won't change soon. As good as the alternative products are, dethroning Samsung will surely be an uphill battle. Right now, the HTC One and the Sony Xperia Z are the brightest starts in the sky, but what will happen when Samsung launches the Galaxy S IV? Will everyone just forget about HTC, Sony and LG and go for Samsung's next big thing?
What do you guys think will happen? Let us know by voting in the poll below!