Galaxy S IV and the smartphones it will be going up against
78
This article may contain personal views and opinion from the author.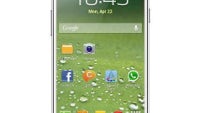 Ever since the first
Galaxy S
, the series has been a tremendous success for Samsung, which has released a new S-branded handset once every year. And each year, the manufacturer has radically improved the smartphone to include tons of new features and enhancements. To a certain extent, the Galaxy S series has been ahead of the Android pack, both in terms of technology and user experience. But as we, vigilant market watchers, can confirm, the rest of the players are now really starting to pull themselves together and come up with their own competitive top-shelf smartphones. Last year, for example, the partnership between Google and LG brought us the incredible
Nexus 4
- a smartphone that many would agree is better than the
Galaxy S III
, thanks to a superior design and stock Android operating system.
What this means is that the pack is now starting to catch up to Samsung and its Galaxies. We can understand the appeal of Samsung's large, Super AMOLED displays, but we no longer think that this will be a sufficient differentiating factor. The performance with the new Exynos 5 Octa CPU (if that's really on board) might be marginally better than the current Android models, but it surely won't be noticeably faster. So it turns out that the Galaxy S IV is in for a bumpy ride when it hits the market in a month or so. Let's take a look at the smartphones that will try to make the GS IV's life hell!