Wi-Fi only version of Samsung Galaxy Tab 4 to launch in the U.S. on May 1st; prices start at $199.99
14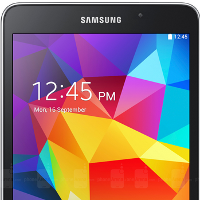 On Wednesday, Samsung announced U.S. pricing and availability for the Wi-Fi only Samsung Galaxy Tab 4. Since these tablets do not connect to a carrier network, you will find them in retail outlets like Best Buy, Office Max, Office Depot and Tiger Direct. Pre-orders for the Samsung Galaxy Tab 4 will start tomorrow. The tablets will be available in
7 inch
,
8 inch
, and
10.1 inch versions
, priced at $199.99, $269.99 and $349.99 respectively. All three versions will be available in black or white, and will be released on May 1st.
LTE enabled versions of the Samsung Galaxy Tab 4 will be offered this summer in the U.S. Sprint will carry the 4G LTE Samsung Galaxy Tab 4 7.0, T-Mobile will sell the 4G LTE Samsung Galaxy Tab 4 8.0, and Verizon is expected to stock both the 4G LTE Samsung Galaxy Tab 4 8.0 and 4G LTE Samsung Galaxy Tab 10.1 models. While AT&T will also be offering the tablet during the summer, the specific models it will carry were not listed.
"This latest addition to Samsung's Galaxy Tab family combines versatility with value. The HD display, multitasking capabilities and easy sharing features make the Galaxy Tab 4 a great fit for both consumers and businesses."-Michael Abary, senior vice president of mobile computing, Samsung
The Samsung Galaxy Tab 4 tablets each feature a resolution of 1280 x 800 on their LCD screens, and are powered by a quad-core 1.2GHz CPU. The trio of slates each have 1.5GB of RAM, rear and front-facing cameras of 3MP and 1.3MP respectively, and are all running Android 4.
4.2
.
source: Samsung