White House lawyers talk with Samsung about Ortiz selfie
32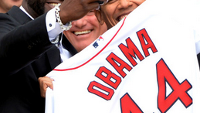 Just when you thought that you had heard the last about that
selfie of Boston Red Sox slugger David Ortiz and President Barack Obama
, the topic became fodder for the Sunday afternoon panel discussion shows. Believe it or not, in a world where there is trouble in the Ukraine, trouble with the president's healthcare website, a triple-digit decline in the NASDAQ index, and a shooting at a U.S. military base, a picture taken with a smartphone has become a major story in Washington D.C.
On CBS News'
Face The Nation
on Sunday, Obama's senior advisor, Dan Pfeiffer, was asked about the selfie. He reiterated earlier reports which said that the president had no idea that Ortiz had just signed a deal with Samsung to promote the
Samsung Galaxy Note 3
, the day before the selfie was taken. Pfeiffer added that whenever the president is being used to promote a product, it is a concern for the president's counsel.
The most interesting question asked by host Bob Schieffer, was whether the White House was considering legal action against Samsung. Pfeiffer replied that the White House had spoken with Samsung and had "
expressed their concerns
." When asked how Samsung responded, Pfeiffer said that he would leave that up to the lawyers to talk about.
You can check out this particular segment from
Face The Nation
by clicking on the video below. The fun and festivities start at the 5:47 mark.
source:
YouTube
via
Engadget