Where's My Mickey? coming to Apple, Android and Windows Phone platforms
10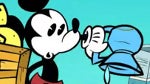 Disney is playing the mouse card with the latest iteration of its "
Where's My...?
" mobile games. Disney first rolled out
Where's My Water?
back in 2011 and in its first year it rang up more than 100 million downloads. The game also became the answer to a trivia question when Chunli Fu downloaded the app early last year and
it became the 25 billionth app downloaded from the Apple App Store
. Ms.Fu won a $10,000 Apple Store Gift Card from Apple for being the lucky person to have installed the milestone app.
Rolling out the heavy artillery, the newest game in the series is
Where's My Mickey?
Disney usually reserves the Mouse's appearances for those times when it needs to call upon the rodent's drawing power. And with the amazing popularity of Rovio's Angry Birds in the mobile space, it could be that Disney executives are getting a little concerned. On Monday, Hasbro and Rovio announced a partnership that will allow the toy maker to produce physical games and toys based on the Angry Birds games. In an ironic twist, one of those games is Angry Birds Star Wars which is based on the characters created by George Lucas that are now
owned by Disney
!
Where's My Mickey?
will be available starting this Thursday for iOS, Android and Windows Phone bringing 100 physics puzzles spread out over 5 chapters. The game, which will feature cameo appearances by Pluto, Goofy and Donald Duck, is being planned around a new series to hit the Disney Channel on July 12th entitled
Mickey Mouse
. Aimed at those 6 to 14 years old and their families, the animated series is actually a stroke of Disney-inspired genius. The characters will have that 1930's animation look to them while the backdrop for the episodes will be real life cities like New York, Venice, Paris, Tokyo and Beijing, drawn from 1950's and 1960's cartoons. Check out the video below for a sneak preview.
In battling Rovio, Disney has a much more diverse set of characters it can draw on. A series of webisodes reached more than
100 million viewers
on You Tube. And now that Disney's big star has his own mobile game, the Burbank based firm is focused on shooing away some Angry Birds that would like nothing better than to devour the Mouse.
source:
TheGuardianUK