What does the Samsung Galaxy s6 edge+ mean for Samsung and the venerable phablet?
60
This article may contain personal views and opinion from the author.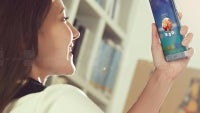 Honestly, the Samsung Galaxy S6 edge+'s purpose evaded me for a while. What's the point of an overblown S6 edge diverting momentum from the Galaxy Note5, which is one of Samsung's most impressive and feature-rich offerings? That's the wrong mentality to have, which I did realize, but struggled to figure out why. So I stuck with it until a few days before the launch event, where, at a meeting, Peter K. pulled out his iPhone 6 Plus and, unsuspectingly, made everything fall into place.
The Galaxy S6 edge+ is the Apple iPhone 6 Plus. By Samsung.
But why would Samsung care about Apple's doings so much as to devise not one, but two big screen behemoths to go head to head with the one from Cupertino? Well, since its introduction last year, the iPhone 6 Plus has become
a best-seller in the large screen category
. In the US alone, Apple's 5.5-incher took 44% of all US phablet sales in the first quarter of 2015 for itself. That's almost half the market eaten up by what's, basically, an oversized iPhone 6! There has to be a message hidden in there, somewhere.
So, isn't the Note5 enough of a big-screen, premium smartphone to stand on its own against Apple's best-selling phablet, and more importantly,
his upcoming successor
? Theoretically, it is, but it's got a self-image problem that prevents it from having the same pull. See, Note phablets are centered on productivity, coming in with a grand symphonic orchestra of features conducted by the S-Pen stylus. The accessory is so integral to Note devices, it's basically part of their organism, for no one besides Samsung plans its product design around fitting the entirety of a stylus inside a dedicated silo within the phone itself.
The Galaxy Note 4 certainly didn't look as attractive when positioned against the Apple iPhone 6 Plus last year. It had a cool metal frame, but lacked the exquisite build materials and thiness that many people gladly choose over more practical appeals, such as removable batteries and SD card slots. You may remember that the Samsung Galaxy S5 had the exact same problem against the iPhone 6.
The Galaxy S6 edge+ seemingly has all it takes to take on the iPhone 6s Plus.
Moreover, business types are probably thrilled by the Note5's concept and execution, but productivity isn't what the average large screen-loving users are after. Most of them actually
come from their bulky tablets
, interested in enjoying games, multimedia, and browsing on a big, beautiful display that actually fits in their pockets. They definitely aren't as hot about stylus functionality or elaborate forms of multi-tasking.
And so far, Samsung's sole offerings towards this large segment of customers were the overly work-oriented Note phablets, and the rather unimpressive Galaxy Grand phones. There was no premium big-screen smartphone in Samsung's line-up to give high-end phablet buyers exactly what they're after — a beautiful, jumbo-sized phone with the latest technology. Nothing more, nothing less.
This is where the Apple iPhone 6 Plus came in, and that's where the Galaxy S6 edge+ wants to rule. It's a logical move by Samsung, and it might turn out to be the best, or among the best alternatives to Apple's phablets for the Western world. It's got a gorgeous, futuristic design with its curved screen and high-end build. It's feature-packed, yet stripped of redundant functionality. It also has Samsung's massive marketing budget to propel it into customers' minds.
The Galaxy S6 edge+ seemingly has all it takes to take on the iPhone 6s Plus, but ultimately, it will be the months after August 21 that will tell us how its fortunes will fare. The same goes for the Galaxy Note5, too. Actually, the Galaxy S6 edge+'s existence and Samsung's reluctance to give the Note5
a proper worldwide launch
might spell some bad news for the productivity-oriented phablet category. We are only thinking the worst here, but hopefully, Sammy won't be keen on shutting down its superbly thought out Note devices just because of their nische appeal!