Watch Intel's CES 2012 keynote livestream!
1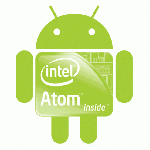 Intel already showed a
phone
and
tablet
running the latest version of Android, but powered by its mobile Medfield processor, as opposed to the ARM-based chipsets we are all used to, and CEO Paul Otellini is taking centerstage at CES 2012 to talk strategy.
We hope to hear some more info on how Intel intends to take on ARM in the mobile space, more about the future plans of Chipzilla, and hopefully exciting stories about die shrinkage all the way to 14nm, bringing amazing power/performance ratios, and introducing some real competition to ARM licensees. Watch Mr Otellini's keynote live below!