Watch Dead Trigger 2 running on a Project Shield console by NVIDIA
13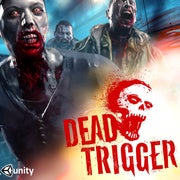 The
upcoming Dead Trigger 2
will be among the first mobile video games to take advantage of
NVIDIA's powerful Tegra 4 processor
, but, as much as we wish it wasn't so, gamers will have to wait for at least 5 more months or so before getting the chance to actually play it. However, what we do get to check out in the meantime is this brief demo of the game running on a Project Shield handheld game console, powered by Tegra 4's four cores of awesome.
Sure, the demo is brief, but it demonstrates how great Dead Trigger 2 will look and how easy playing it will be on NVIDIA's latest gizmo. It is also nice to see that the levels have been expanded, or at least the one being played seems a lot more spacious than the stages in the first Dead Trigger. New weapons are expected as well, including the machine gun turret being used against that humongous zombie boss.
And that's pretty much all we know about Dead Trigger 2 so far, but we are sure looking forward to the day we'll spend some time playing it. Oh, and by the way, it has been confirmed that the game will be free to play, presumably to prevent those
pesky pirates from giving the game's developers a headache
once again.