"Unbelievably high" illlegal downloads are what brought the price of Dead Trigger to free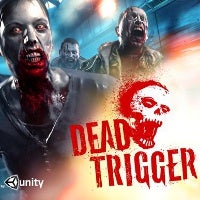 Just a couple of days ago,
Dead Trigger
, one of the most popular apps on iOS that got on Android, was selling for $0.99. Then, it
suddenly went down to absolutely free
for no apparent reason and the game isn't freemium. So what happened to make developers from Mad Finger games cut the price?
The initial plan for Dead Trigger on Android was to make the game so affordable (at just one buck) that everyone who likes games where you shoot zombies would buy it. However, so many people found the illegal way to download the app off sources different than Google Play, that Mad Finger finally thought it could just give it away for free as some kind of a statement.


"Regarding price drop. HERE is our statement. The main reason: piracy rate on Android devices, that was unbelievably high. At first we intend to make this game available for as many people as possible – that's why it was for as little as buck. – It was much less than 8$ for SHADOWGUN but on the other hand we didn't dare to provide it for free, since we hadn't got XP with free-to-play format so far. – However, even for one buck, the piracy rate is soooo giant, that we finally decided to provide DEAD TRIGGER for free. Anyway – DEAD TRIGGER is not FREEMIUM, it always was and still remains FREE-TO-PLAY, that means, all players are able to play it without IAP! We stand up for this statement, because all members of our team are playing (and enjoying) DEAD TRIGGER without IAP," Madfinger Games explained.


So it seems that Dead Trigger is facing an uncertain future - it might end up being ad supported or with more in-app purchases in the game. What's worse is that this gives Android a bad name for developers who have recently started more aggressively launching apps and games on Google's platform.
In either case, you can still go on Google Play and
get Dead Trigger for free
.
source:
Steve Troughton-Smith
via
SlashGear