Was RIM behind the "Wake Up" protests outside that Australian Apple Store?
56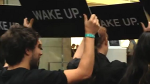 Last week, we told you about a bus load of protesters that pulled up to an Apple Store in Australia
with signs that read, "Wake Up."
The group chanted the same two words in an attempt to portray iOS users as being mindless sleep hypnotized by the crew in Cupertino. An accompanying web site also seemed to shout, "Wake Up," and also had a countdown timer clicking off the seconds to an unknown event.
Samsung was originally considered the culprit
due to the other shots that the Korean manufacturer had taken against Apple recently. From an
entire ad campaign poking fun at Apple iPhone fanatics
waiting in line for the next model, to a
video portraying the same iOS clutching group as being sheep
, Samsung seemed a good choice to have put this all together.
Samsung Australia later denied being involved in the protest
which
left everyone a bit curious as to who the mastermind was
. James Croft from
MacWorld's
MacTalk podcast did some digging into the "Wake Up" web site source code and found this to be a Doubleclick source identifier with a number of src=2215527;type=black822. When the numbers are sifted through Google, you see a number of hits that lead to RIM's Australian web site. We aren't talking about a BlackBerry fan site here, we are talking about
RIM's own Australian based web site
.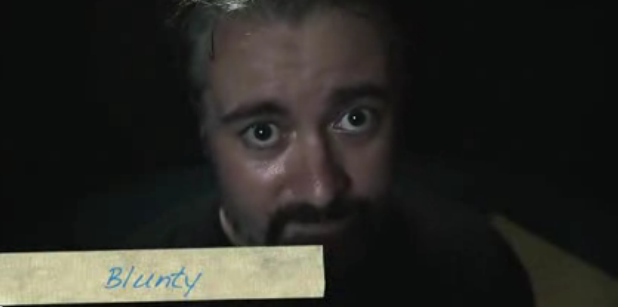 Blunty has apparently worked for BlackBerry
More support for RIM's involvement comes from "Blunty's" participation in the event. "That is the gentleman who by coincidence or design (we'd go with the latter) was at the Apple Store in question and was able to video the protest. It seems that
"Blunty" has worked with BlackBerry before
, even penning a glowing review of the BlackBerry PlayBook before its arrival in the country.
If all of this is true, and at this point RIM has yet to comment one way or the other, it would seem that Samsung deserves an apology. As for RIM, well, we're not sure what the Canadian manufacturer could possibly gain from this promotion. Perhaps it is just the beginning of an ad campaign for the new BlackBerry 10 handsets. With the
BlackBerry World Conference beginning May 1st
, the timing might just fit.
source:
MacWorld
via
RedmondPie