Latest Samsung ad has Apple faithful "Sam-sunged"
69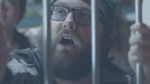 The latest ad from
Samsung
that pokes fun at
Apple iPhone
users is out, and it adds a new verb to the English language. To be "
Sam-sunged
", one apparently finds out that their Apple iPhone requires a third party app to get turn-by-turn directions, while that is a feature that comes out of the box for the Samsung Galaxy S II. While it
might not be as classic
as "
Dude, you're a barista
," it still will probably catch on among smartphone fanatics. The new ad also seemingly takes a shot at battery life as one of the iPhone users on line has a charger tossed his way by the Galaxy S II owner. That part of the ad might be called back for additional review.
And speaking of football (see how we did that segue?), Samsung is one of the companies that will be presenting a commercial
during the Super Bowl
and as many of you know, that is the occasion when all of the stops are pulled out and ad agencies let go with their best material. If Samsung is this hot now, imagine what the Super Bowl ad will be like. Apple iPhone users are probably cringing right now. For example, look at the way the ad portrays the iPhone user wearing the ski cap. With his striped shirt and the way he holds the bars in front of him, he looks like a prisoner in jail. Clever, Samsung, clever. The ad is saying that Apple iPhone users are "locked-in" by using the closed iOS platform.
With the
acrimony between Samsung and Apple
, perhaps a football game between those two companies would be more hard-hitting and exciting to watch than the Super Bowl which has traditionally become a Super Bore. At least there will be one interesting aspect to this year's battle, the Super Bowl ad from Samsung is something to really look forward to. And if you are ready to be "
Sam-sunged
" you can click on the video below.
source:
AllThingsD