Buy the Samsung Galaxy S9 or Galaxy S9+ inside Walmart and save $150
1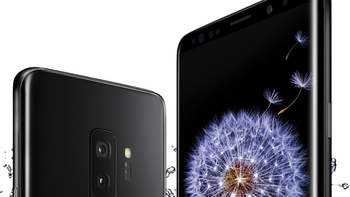 Next time you're in Walmart buying a pair of socks, cookie dough ice cream and a gallon of milk, you might consider adding the
Samsung Galaxy S9
or the
Samsung Galaxy S9+
to the cart. Right now, Walmart is rewarding those who come inside the store by taking $150 off the price of Samsung's 2018 flagship phones. The discount retailer is using its Twitter account to promote the deal.
After the discount, the
Galaxy S9
will cost you 30 monthly payments of $21.30 each ($639 total, $150 off the usual price of $789). The Galaxy S9+ is $25.47 a month over 30 months ($764, $150 off the usual price of $914). The deals are offered for the Verizon and AT&T carrier versions of the two handsets.
If you don't mind signing up with pre-paid carriers Straight Talk, Total Wireless, Walmart Family Mobile or Simply Mobile, you can order the Galaxy S9 online for $699.99, and the Galaxy S9+ for $799.99. The deal includes free 2-day shipping.
Walmart has a number of phones it is offering on 30 month installment plans, which reduces your monthly obligation, but adds 6 additional months of payments compared to 24 month EIPs. Even though the amount that you shell out for the phone remains the same, you might find it easier to meet the monthly payments if they were spaced out over 30 months instead of 24 months.
For example, the 64GB
Apple iPhone X
is $31.63 per month over 30 months, the
Apple iPhone 8 Plus
is $24.97 per month over 30 months, and with the same terms, the
Apple iPhone 8
is $21.63 per month. Other phones being offered with a 30 month payment plan at Walmart include the
Samsung Galaxy S8
($16.83/month), the
Samsung Galaxy S8+
($20.17/month) and the
Samsung Galaxy Note 8
($26.67/month).
source:
Walmart