Is a Vivo phone with 10 GB of RAM coming soon? Don't count on it
13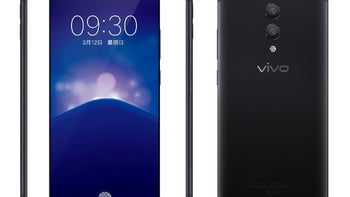 Vivo, the Chinese smartphone maker that recently announcedthe world's first handset to feature an in-display fingerprint scanner, mightalso unveil the world's first phone to offer 10 GB of RAM. Or at least that'swhat a new rumor - picked up by plenty of relevant websites - is claiming. Butwe're here to cast serious doubt on this.
The new rumor has it that Vivo's next generation flagshipphone, apparently called Xplay7, will be a powerhouse packing Qualcomm's brandnew Snapdragon 845 processor, a 4K screen covering 92.9% of the device's front,up to 512 GB of storage space, and - as already mentioned - 10 GB of RAM.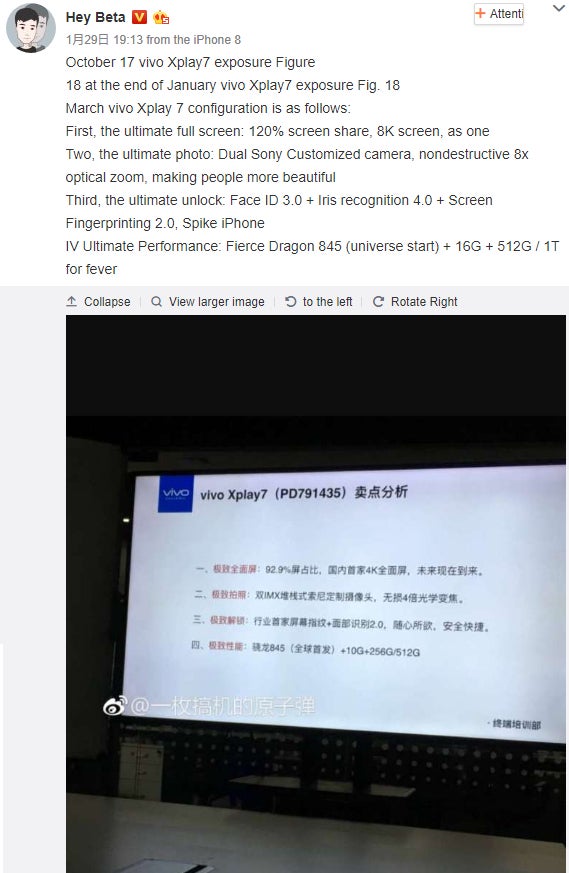 The exact origin of the rumor can't be traced, but thesedetails seem to come from Weibo (one of
China
's largest social mediaplatforms), where a slide listing the alleged specs of the Vivo Xplay7 canbe found - see left. However, a wiser Weibo user has pointed to the existence of similarslides (from October 2017) which painted a different picture.
According to theolder slides, the Xplay7 should feature 8 GB of RAM, and up to 256 GB ofstorage space - thus being more or less normal, since we already have phoneswith 8 GB of RAM, as well as with 256 GB of internal memory. But the same olderslides claimed that the handset's screen would cover 100% of its front - whichis, well, hard to believe.
All in all, it appears that these slides are simplyfabricated for fun, and shouldn't be taken seriously. The wise Weibo usermentioned above says the next leaked slides could very well tout an 8K screen covering120% of the phone's front (take that, logic and physics!), 16 GB of RAM, and upto 1TB of storage space, simply because it's not hard to create fake imageslike these.
Over the years, we've seen many Weibo-based rumors thatnever materialized, and it's very likely that this one won't materialize, either. We'renot saying that smartphones with more than 8 GB of RAM won't be available atsome point. It's just that the rumored Vivo Xplay7 might not be one of them.
P.S.: The Vivo Xplay7 renders seen above have been around since October 2017, but they're probably fake, too.
source: Weibo (in Chinese; automatic translationunavailable)