Razer Phone is here with 5.7" 120Hz Ultramotion display, 8 GB of RAM, and it's insane!
96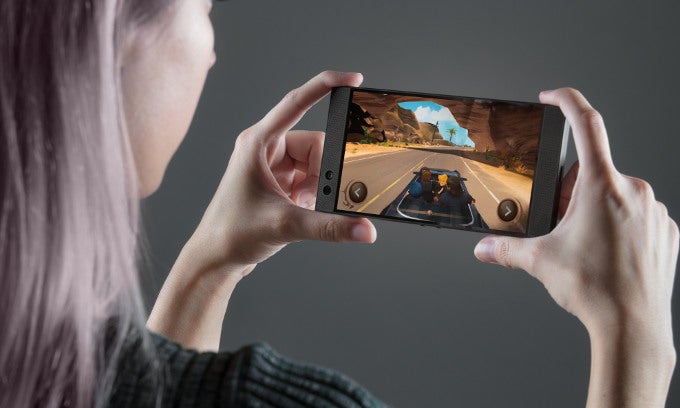 The serious side of mobile gaming
Razer, a leading gaming tech company, is ready to enter the busy smartphone marketplace with a product of its own. Its debut handset is called Razer Phone, and it is not your average smartphone. In typical Razer fashion, it promises a true spectacle.
Understated looks with no blinking RGB lights
The Razer Phone has a classic, rectangular design. Think the entire Sony Xperia series, or the Nextbit Robin from last year. There are no rounded corners to minimize the footprint here. Just an unapologetic, simple rectangle. If you hold the device in landscape mode (as it's meant to be used for the majority of the time), you'll find sizable bezels along the left and right of the massive 5.7" display with 16:9 ratio. Those bezels do make the handset quite large, but at least there are stereo speakers to justify their presence.
Unlike the Nextbit Robin (
Razer bought Nextbit early this year
), the Razer Phone has a metal body, finished in matte black paint. It's a very minimalist design, but on the rear side you will find a couple of interesting details: a dual camera with secondary zoom lens, and the Razer logo. While the logo will be silver in the 'regular' model of the Phone, Razer also tells us there's going to be a Special Edition with a classic Razer-green logo. Absolutely no other differences are expected to be found on the Special Edition.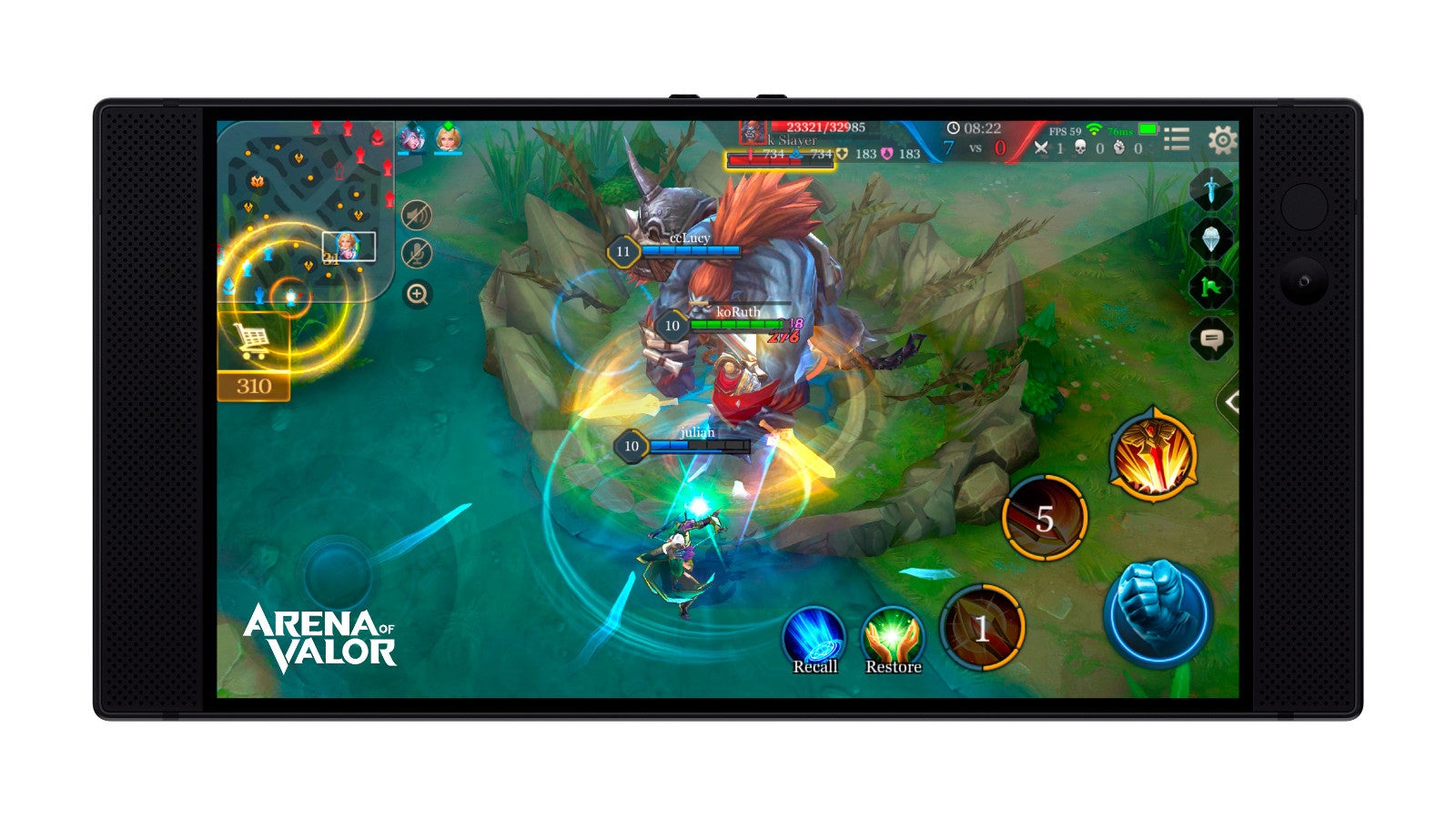 120 Hz Ultramotion display: a first on a phone you can buy

With the Razer Phone, the company remains true to its core audience of hardcore gamers; as you'll see in the specs and features of the product, the Razer Phone is designed to deliver an exceptional performance with video games. It has a massive 5.7" 1440 x 2560 px LCD display with wide color gamut; there is no super-wide-screen aspect ratio here as on the iPhone X or Galaxy S8, and in this case, sticking with the traditional 16:9 format feels like the correct decision, because Razer cannot risk incompatibility with any of the games or apps found in the Google Play Store.
There is a touch of magic with the display, though: it has an ultra-fast 120 Hz refresh rate – all the popular flagships out there right now run at 60 Hz. The 120 Hz display of the Razer Phone, which the company names Ultramotion, means that all kinds of animation and movement you see on the screen will look exceptionally smooth. This should be a great experience not only for media like games and movies, but also for ordinary things like scrolling a web page, for example. The latest Apple iPad Pro 10.5" and 12.9" are the only widely available mobile devices with such screens right now. As for the 'Ultramotion' part, that's Razer's proprietary take on the 120 Hz display, which adds variable refresh rate for both consistent image quality and zero input lag.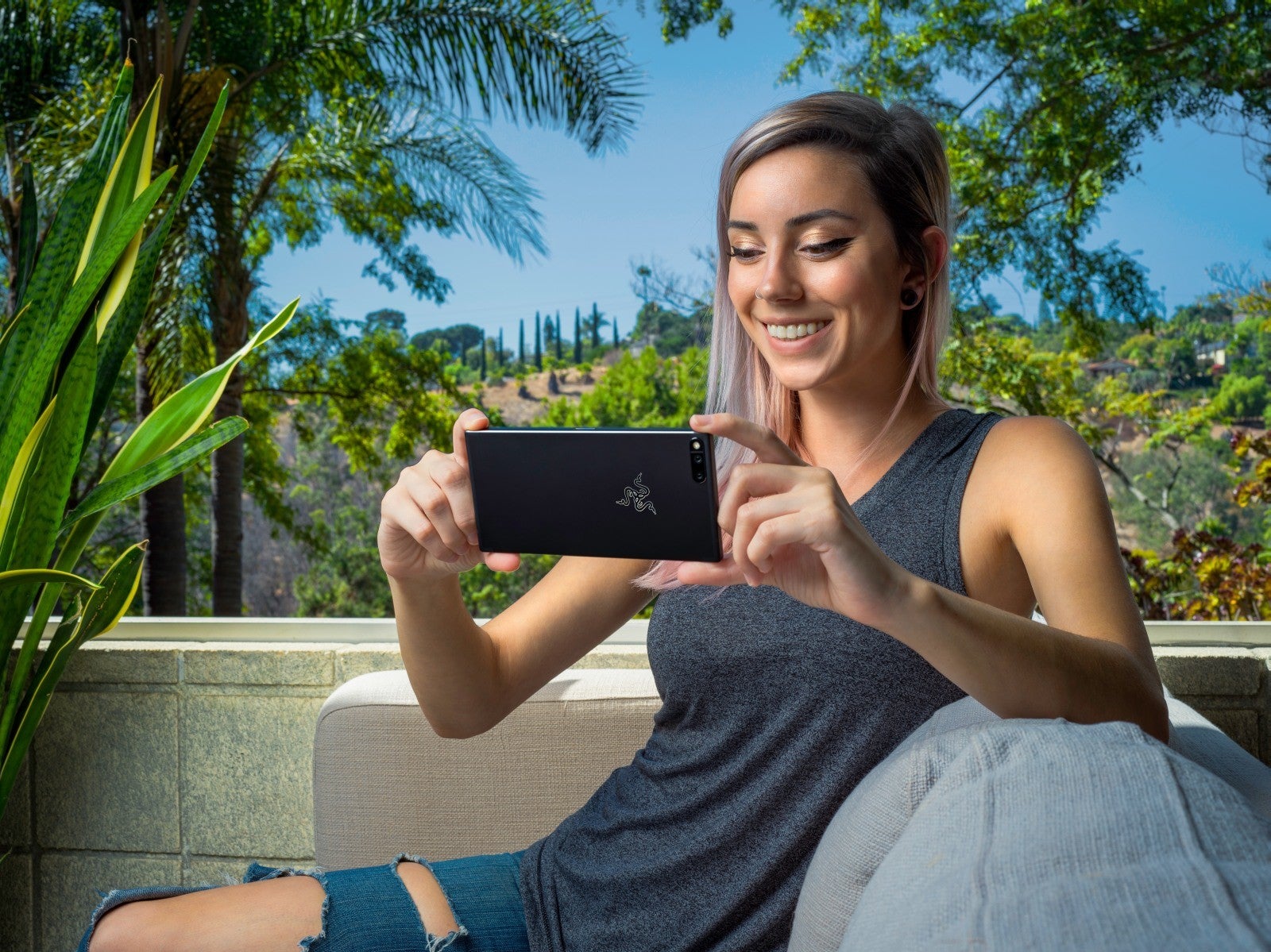 Raw power for smooth gameplay... and a humongous battery

There's no shortage of firepower on the Razer Phone – it features the Snapdragon 835, which is currently the most popular high-end Android processor. Now, when it comes to RAM, we know some Android phone makers like to go big, but it's very rare that we see extreme cases such as this one: there are 8 gigabytes of RAM on the Razer Phone! Given the demanding, high-profile games the device is intended to run, having an abundance of system memory probably isn't a bad idea.
< Standard
Special Edition >
You'll also need a lot of space on the phone to keep those games, so the 64 GB of internal memory will definitely come in handy. There's also a microSD card slot, where you can keep your media like photo, video and music content, so that the faster and more reliable internal storage can be used for apps and games.
So, after a large, high-resolution screen, and a cutting-edge chipset, what does a smartphone for games need the most? A massive battery, that's what! Those 3D games know how to drain a phone's juice in no time. Here, the large size of the Razer Phone has allowed the company to fit a truly humongous, 4000 mAh battery. Such capacity should allow consumers to easily exploit the phone's gaming prowess without worrying about running out of battery power before the day's end. Furthermore, the Razer Phone will be the first smartphone to feature Qualcomm's QuickCharge 4.0+ tech – also a crucial asset for a gaming-centric portable device. You want to minimize the downtime between those gaming sessions!
Price and release date
Pre-orders for the Razer Phone open today, Nov 1, at 5 PM Eastern / 2 PM Pacific / 9 PM GMT, and the handset is expected to be officially released on November 17 in North America and Europe. There are no detail about an Asian release right now.
The price, however, is known, and it's $699 in the US, or £699 in the UK. For the rest of Europe, Razer hasn't been as specific, but we're guessing it's going to be around €699.
Baby steps in mobile
Until recently, Razer had made only but a few modest moves into mobile tech territory. It launched a couple of Bluetooth fitness bands and a thick, sporty smartwatch, but it didn't exactly put a dent in the market with these products.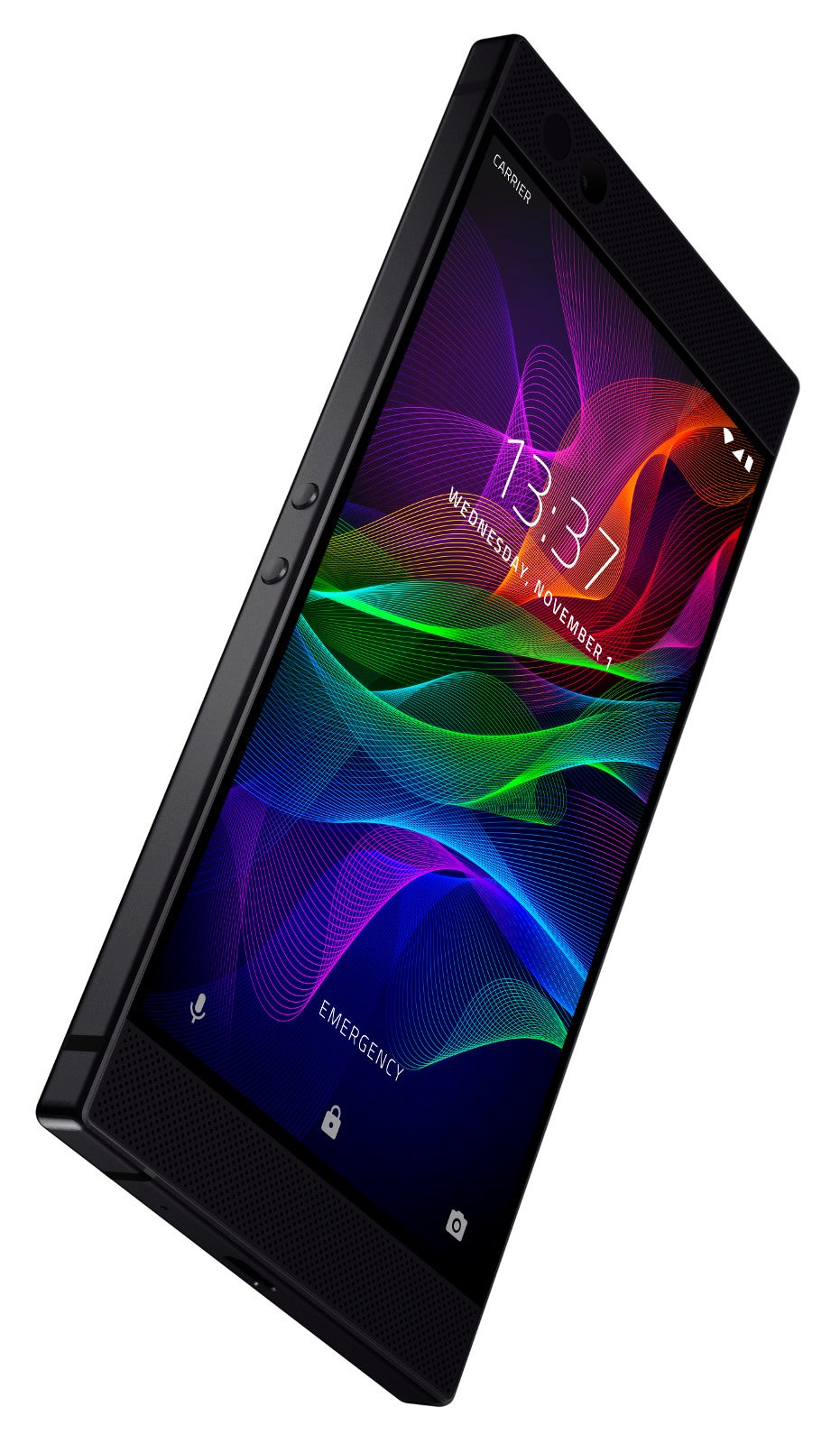 Razer Phone costs $699 and will be available on November 17
There have been
rumors of a Razer phone as early as last year
, but the gossip got more serious after the announcement that
Razer has acquired Nextbit
early in 2017. In Nextbit and its first and last smartphone,
the Robin
, Razer apparently saw great talent for unique design and capabilities that could serve as a bridge for expansion into the lucrative mobile space. The Robin was designed by Scott Croyle (and team, obviously), who's previous works include some of the more remarkable and forward-looking smartphone designs, such as the
HTC One
. Following the Razer-Nextbit acquisition, though, Scott Croyle has left his new employer to found a new design firm. It's not clear if Croyle has left any direct mark on the design of the Razer Phone; but either way, it appears Razer's Phone is closely following the general principles behind the Robin, except for the material the body is made from, and the color scheme.
While nowhere as big as its top rivals, which will now include Apple, Samsung and LG, Razer has turned out to be surprisingly successful in other highly competitive markets before. Outside of its core gaming peripherals business, one of the company's most exciting and successful products has been the Razer Blade line of powerful but costly laptops, which have enjoyed considerable success in the US, often being compared head to head with the industry leading Apple MacBook Pro and Dell XPS. This time, it once again looks like Razer isn't just throwing a piece of generic hardware out there for the sake of it. The Razer Phone seems like a product that's ready to compete on every level. Among other things, this is strongly signaled by the presence of a 12 MP dual camera system, which includes a secondary zoom shooter – features that are just now getting into the mobile mainstream.
Welcoming new players to the dangerous game of smartphones is always great, but while new companies come and go almost every day in the wild west (east?) that is the Asian market, it's very rare that we see a newcomer go straight for saturated geos like the US and Europe. Even somewhat experienced phone makers like Xiaomi are finding it very difficult to transition from Far East-only to global distribution. Razer, however, seems to be in a position that allows it to emerge in its home market (the US), seemingly just like that, and remain alive long enough to secure a foothold. The Razer Phone doesn't look like a Galaxy or iPhone killer, but it sure seems to have what it takes to become a stable, successful boutique product for both mobile gamers and just heavy smartphone users in general – the kind of consumers that would buy supersized devices like the Galaxy Note, or the LG V series, or why not even the iPhone Plus. For now, the Razer Phone looks very promising, but we'll see if it truly delivers on all fronts come November 17.