Video shows the Project Ara team at work inside Google
26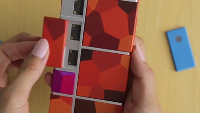 It might have slipped your mind, but in the deal that sent Motorola to Lenovo,
Project Ara stayed with Google
. For those who have forgotten all about it, this project deals with a modular phone being developed by the Mountain View based tech giant. The idea behind a modular phone is that you can
easily slide in something you want to add to your handset
, a better camera for example. So you might go to a modular store where you would buy the appropriate modular piece, and slide it into the endoskeleton of the phone. Other modular pieces could offer a faster AP or a better flash, or even an improved display.
The video at the bottom of this story introduces the current Project Ara team and gives away some clues as to where the team is now, in regard to launching a modular phone. It seems that there is still plenty of work to be done, but Google seems focused on getting a modular phone into the hands of the public.
In February, Google revealed some more details about Project Ara saying that it
wants the entry-level unit to be priced at no more than $50
. For that price, buyers would get a Wi-Fi radio, a touchscreen and the circuitry to run both. Google is planning on opening kiosks where Project Ara owners can buy the modular parts they need to build the rest of their smartphone the way they want it.
On April 15th and 16th, the first Ara Developers conference will be held, raising the public's awareness of the project. The conference will be held online. So what do you think? Still excited about the concept? The first Project Ara device is expected to launch in the first quarter of 2015.
source:
Phonebloks
via
Engadget