Gameplay demo with the preloaded titles on the Sony Ericsson Xperia PLAY
2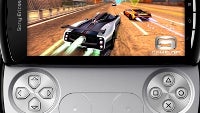 The Sony Ericsson Xperia Play comes with up to seven games preinstalled, depending on the region it is sold in, and we played a bit with the titles on our own white review unit. In the Xperia Play app, which starts when you slide open the gamepad, we saw
Bruce Lee, FIFA 10, Star Batallion, and Sims 3
. We have one more preinstalled game -
Crash Bandicoot
- in the
PlayStation Pocket app
, which is for old PS titles, ported for the Xperia Play phone, so this makes our games five in total.
These are not the only titles available for the game-centric handset, though - the
Get Games
app pulled a list of
36
more games, which are compatible with the handset's controller. Some of the titles led you to Android Market, others to developers' sites, where you can purchase or download them (a lot are actually free, and the rest are at smartphone app prices). This list is sure to grow with time.
What we immediately noticed is that when you download one of the titles that is not preinstalled, it goes into the Xperia Play app interface, along with the preinstalled titles. The key difference we saw was when we needed to do something on the phone, but were in the middle of a game, and went out with the home key. The games we had from the start stayed
paused in the notification bar
, so a quick pull after we were done, and we went back where we left off. With a free title we downloaded afterwards, the appearance in the notification bar as an active game was missing, but it paused alright, and we were able to resume where we left off by just tapping on its icon in the Xperia Play app.
The gameplay on all of the 5 titles we tried was quite good, and we only used the touchscreen a few times because we ran these games for the first time, and it was easier than trying out what to press on the gamepad to exit the title. The
D-Pad
keys and the four
PlayStation action buttons
have just enough travel to feel easy on the fingers, but not wobbly, and the whole controller construction is very sturdy. In a few games, like FIFA 10, and Star Batallion, the
two circular analog pads
came into play for various tasks, and the
two shoulder buttons
are very comfortable and sensitive when the going got tough.
Have a look at the short gameplay we scored on each of the preinstalled games, tells us what you think, and don't judge our lousy effort too harsh if you are a hardcore gamer, we were just testing. Oh, did we mention you can map the buttons on the PlayStation-style controller to
play titles from the abundance of console emulators
on Android Market? Yes, you can, and with ease, which just expanded your available titles by several hundreds, if not thousands.