Sony Ericsson Xperia PLAY old school emulator game demo
6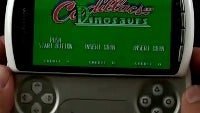 We found five preinstalled titles on the Sony Ericsson Xperia Play (gameplay demo
here
), and you have access to about
40
in total via the
Get Games and Xperia Play apps
, and we are sure more will be on the way. Thus, there are plenty of titles to keep you occupied, even though the phone doesn't sport a dual-core chipset, and can't play games that take full advantage of CPUs with two cores, of which there are currently zilch in Android Market anyway.
Six months or most likely a year from now the situation will probably be different, but for the time being the Sony Ericsson Xperia Play runs everything you throw at it. What we were really curious about from the very beginning, though, was how will the classic games found through numerous
emulators
in Android Market behave on the Sony Ericsson Xperia Play.
Will the emulators be restricted from installing somehow? Will we be able to map keys of the PlayStation Certified gamepad on the phone for the old console games? It's Sony, after all, and it is pretty hush-hush with these things.
We'll end the suspense right now, and tell you that you can download as many classic console game emulators from Android Market as you wish, and load them with as many game ROMs as your internal storage allows, just like on any Android handset. The key difference here is that it actually feels like a console, because you have a dedicated gamepad now, and you can turn off this pesky virtual gamepad overlay that is the most annoying thing when playing games on a touchscreen. This leaves the whole 4" display for the game and game only, plus you don't have to wipe it each time after a classic game session, or worry it will break from the frantic pounding.
We loaded a
Cadillacs&Dinosaurs ROM
, one of the immortal CAPCOM titles, in an emulator, because we have some unfinished business with this game, i.e. we ran out of money when we were kids, and never finished it on those big boxes you had to put coins in to play. It worked flawlessly, you can easily map any key of the gamepad to control it, and it even has quite the audio.
Now, if you excuse us, we'll continue to finish the game, since there is nobody to kick us out when we finish the coins. Afterwards we'll move on to the PSX and Nintendo emulators, so our list of available games for Sony Ericsson's first PlayStation Certified handset just expanded with a few hundred, and maybe thousand.
Have a look at our first encounter with Cadillacs&Dinosaurs on the Sony Ericsson Xperia Play in the video below: