Verizon's HTC One penciled in for Android 4.3 update early next week
6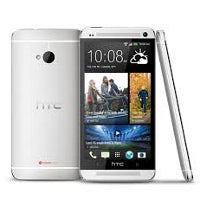 A tweet sent Friday from HTC's Executive Director of Product Management revealed that Verizon has given the thumbs up to the Android 4.3 update for its version of the
HTC One
. If you're a Verizon customer, or an avid PhoneArena reader, you know that Big Red has a reputation of being obsessive when it comes to updates, which is why Verizon phones are often the last to receive them.
But now that Verizon is happy with what it sees, Android 4.3 should start to make its way to Verizon HTC One owners sometime
early next week
. No one said it will take place at the stroke of midnight Monday morning, so don't be ready to call Verizon if the update hasn't hit your phone just as the new week begins. And this update will leave Sense at 5.0, so in a way this update is senseless. Sense 5.5 will be coming with Android 4.4. That update is
expected before January comes to an end
.
Sprint HTC One owners,
who already have had their Android 4.3 update
, will be getting a bug exterminated next Tuesday with a small maintenance update. This will remove a "No SIM" issue that is an absolute pain for those who have had to endure it. This update will hopefully end that problem once and for all.
And we would be remiss if we didn't tell you once again, that those with the HTC One Google Play edition
have started receiving the Android 4.4.2 update
that gives the phone the most up to date Android build. Heck, that's why you bought the Google Play edition. Fast updates and stock Android, just the way you like it.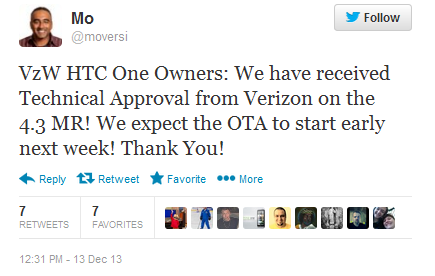 Tweet from HTC executive reveals Verizon's intentions to update its HTC One early next week to Android 4.3
source:
Twitter
via
Phandroid