Verizon asks the President to veto the upcoming ITC sales ban of Apple iPhone 4
67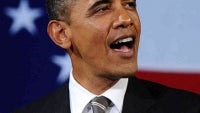 An ITC ordered sales ban against certain older Apple devices is
supposed to take effect starting August 5th
. Out of the models affected by the order, only the
Apple iPhone 4
and the
Apple iPad 2
remain on retailer's shelves. Because Apple uses the iPhone 4 as a low cost version of its smartphone (similar to how the
Apple iPhone Lite
will be positioned), a sales ban on the phone will have ramifications on Cupertino.
The sales ban comes after the the ITC ruled against Apple in a patent infringement suit. Right now, the sales ban is on hold pending a 60 day presidential review that expires on August 4th. Speaking of President Obama, Verizon's general counsel, Randal S. Milch, had an editorial published in the Wall Street Journal earlier this week, asking for the president to
intervene in this case
. The version of the Apple iPhone 4 involved in the sales ban is the AT&T flavored model, so Big Red doesn't have an interest in this case at all, but Milch's editorial says that Verizon is concerned about the precedent that a sales ban would set.
Milch wants President Obama to veto the ITC decision, a move that no president has taken
since 1987
. He also pointed out three situations where the president needs to step in. One is when the patent holder isn't using the patented technology. Another would be when the patent holder has already agreed to license a patent on FRAND terms. The third situation is when the infringing part isn't important to the overall product and isn't what drives consumer demand for it. You can read the entire editorial at the sourcelink.
Apple has appealed the order with the U.S. Court of Appeals, which is
hearing arguments from both sides on August 9th
.
"What we have warned is that patent litigation at the ITC—where the only remedy is to keep products from the American public—is too high-stakes a game for patent disputes. The fact that the ITC's intellectual-property-dispute docket has nearly quadrupled over 15 years only raises the stakes further. Smartphone patent litigation accounts for a substantial share of that increase."
-Randal S. Milch, Verizon general counsel
source:
WSJ
via
AppleInsider
Recommended Stories