Verizon Galaxy Nexus en route to stores, final packaging leaked
48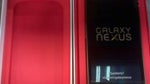 Well, well, well, what have we here? It's a
4G LTE Galaxy Nexus
in a unmarked white box lined with Verizon red. According to the tipster that supplied the photos the phones are being shipped to Verizon stores this week.
It's intriguing that the box is white and unmarked, although there could be a slip cover that will cover it at retail. The red interior is certainly different than the GSM units that have shipped. Although some have suggested that there is a visible seam around the words "Galaxy Nexus" on the Verizon manual, the phone itself is clearly the Verizon version (and shows no signs of manipulation), so it seems unlikely that there would be any reason to fake the manual. It's also worth noting that jpeg compression can cause artifacting around words like this, so with no other signs of fakery it would appear we have the Real McCoy on our hands.
The latest rumors have been pointing to a Verizon launch on the
8th
or the
11th
of the month;
official renders
are showing up buried on Verizon's website, and if retail units are indeed on their way to stores now, it would seem reasonable that we might see the phone go on sale sometime in the next week.
For all of you waiting with bated breath, it appears you don't have much longer. In the meantime, enjoy the snapshots:
source:
XDA Developers
via
Droid-life