Best Buy to launch Samsung GALAXY Nexus on December 11th?
21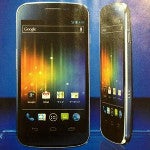 A leaked screenshot of Best Buy's inventory system shows that the retailer expects to have the
Samsung GALAXY Nexus
in stores December 11th. Of course, that could simply be the date that the big box retailer checks the phones into inventory and the actual launch could be the same day or even months later.
the latest speculation points to December 8th
, which is the
same date that the Motorola DROID 4 is supposed to be released
. But with
launch dates for the SCH-i515 all over the place,
we wouldn't bet our lives on being able to walk into a Verizon store and pick up the phone on December 8th.
On the other hand, if the Best Buy screenshot is legit, we have at least some idea when the Samsung GALAXY Nexus will be available. Some of the specs on the screenshot, like the weight and the size of the phone, don't match up with
the official numbers that Google had
on its web site. Assuming for a moment that the screenshot is for real,
you can pencil in December 11th
as the date when you can go in to your local Best Buy and hound them about the phone, telling them that you know they have it in the back room. Either they will sell you a unit just to get rid of you, or they will call security and have you removed from the store.
source:
Engadget