Official Verizon press shots of the Galaxy Nexus leak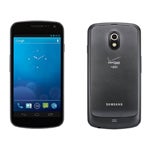 We still don't have an official release date, but a clever internet snoop found the XML manifest file that Verizon uses for their product views, so low and behold we can now show you Verizon's official product renders of the Galaxy Nexus. Verizon has tastefully restricted their branding to the back of the phone, along with their 4G logo. We know that will be too much carrier branding for some of you, but you have to admit it's an improvement over Verizon's other Android handsets.
The only other branding on the back belongs to Samsung. Interestingly, there doesn't appear to be any Google branding on the phone's exterior, although the word "Google" sits in plain view on the baked-in search bar on the home pages (as long as Google is your default search engine). We're not really sure what to make of that, but we suspect that for most of you when the phone will ship ranks higher on the priority list then which names are on the back.
Enjoy!
source:
androidforums
via
Droid-life