Update to the Google Home app for iOS/Android brings new UI and Night Mode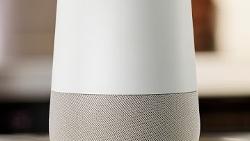 The day before the Google Home Mini is officially introduced, Google has pushed out an update for the Google Home app for iOS and Android. The Google Home is Google's vision of a smart speaker, the tech product that was created by Amazon with the Echo. The app version is 1.25.81.13, and it includes a new UI that makes it easier for users to make their way around the app. For example, three tabs (Watch, Listen, and Discover) are gone, replaced with Discover and Browse categories found at the bottom of the screen.
The Discover category shows users how best to use the Google Home smart speakers. It reveals this through the use of cards that offer hints on how to raise or lower the volume of the Google Home, or how to activate Google Assistant on the device. The Browse category merges the capabilities that were formerly found in the removed Watch and Listen tabs. The search button on the bottom includes options for TV shows, Movies, and Music. Search for a particular show or movie, and you'll see all of the places online where it can be found. Search for Music and the app will rummage through your Spotify or Google Play Music collection.
In addition, Night Mode is coming to the Google Home app. You can arrange to have the volume of the Google Home lowered automatically at a certain time of the day. If the lights on top of the smart speaker blind you at night, you can dim them so as not to keep you awake. And a Do Not Disturb setting can be enabled which will prevent sounds and certain notifications from working when Night Mode is on. Regular alarms and timers will still work just in case you rely on the Google Home to get you up in the morning.
Click on the slideshow to see some the new settings on the Google Home app. To install the Google Home app on your Android or iOS device, click on the appropriate link (
iOS
|
Android
). If you don't own the Google Home, well this app really isn't for you.
source:
AndroidAuthority