Update to Swype brings some useful changes
7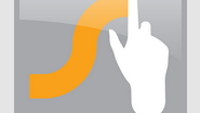 Swipe to type third party virtual QWERTY Swype has received an update in the Google Play Store, bringing the app to version 1.9. The changelist includes the ability for Swype to make two-word predictions. For example, if you tap out the word "
How
," you might be prompted to tap on "
are you
." Also part of the update is Swype's new ability to give you a suggestion based on numbers and symbols if you tap on letters that use these numbers or symbols as a secondary character. For example, tapping on "ejqp" will bring up the suggestion of "3:10". Tapping out "swpp" suggests "$200."
Other parts of the update include "Chinese Cloud prediction," and the proverbial bug and crash fixes. The Swype app is available in the Google Play Store, priced at 99 cents. If you need to kick the tires first, there is a 30-day free trial. There are over 250 million Swype users using their fingers to do the "talking." Some manufacturers include Swype with the virtual QWERTY that comes with their handsets. You might want to check it out before deciding to buy the app.
If you already do own the app, the update can be found in the Google Play Store under
My apps
. Some swear by Swype, saying that it greatly improves their typing speed. If you haven't tried it, now would be as good a time as any.
source: Swype (
Android)
via
AndroidCentral