Update being pushed to three Motorola DROID RAZR models to close bootloader exploit
7
One of our loyal readers sent us a very interesting note in the wee hours of Thursday morning, detailing an update that is coming to three Motorola DROID RAZR models. The precise units are the
Motorola DROID RAZR HD
, the
Motorola DROID RAZR MAXX HD
and the
Motorola DROID RAZR M
. One of the things that the update will do is allow the handsets to support the new
VMWare app
. This app allows the IT department at work to control your phone's business side, setting up the device the way they want it and making your phone secure for business. When you're done being yelled at and chewed out at work for the day, toggle your phone back to 'play' and you can take on Candy Crush to your heart's content. This is what BYOD is leading to.
But what our source has circled for us on a leaked internal memo detailing the update, is more interesting. Apparently there is a
Kernel exploit
that was
allowing hackers and modders to unlock the bootloader on the three devices
. It appears that this is something that we told you about back in April, and considering Motorola's feelings about unlocked bootloaders, it is no surprise that the wholly owned Google subsidiary is closing it down. We're just surprised that it took so long.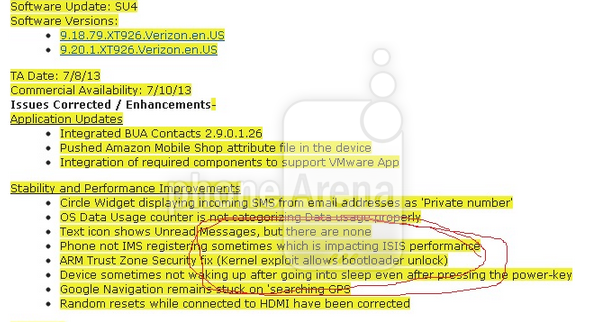 Motorola is closing the Kernel exploit on three DROID RAZR HD models that could unlock the bootloader
Thanks Anonymous Tipster!