Upcoming new world thinnest phone, Vivo X3, surfaces in China
15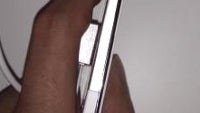 We have already seen the world's new thinnest phone - the 5.6mm
Vivo X3 has posed for a photoshoot before
, but this time it appears at a real event where members of the press could hold it and take it for a spin. And share the images of course.
The razor sharp Vivo X3 is exactly 2mm thinner than the already very slim iPhone 5, and it beats the record set by the Huawei Ascend P6 earlier in the year.
The Vivo X3 is made by Chinese BBK, and it is expected to grace mostly Asian markets with its presence. The handset is rumored to come with a 5-inch 1080p display and a MediaTek quad-core chip. Chinese C Tech now also mentions the phone is not only razor slim, but a good performer with a well-implemented 'smart wake' function.
source:
C Tech