World's new thinnest phone, Vivo X3, poses for a weird photoshoot, acts like a knife
37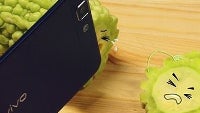 We've already told you about the
Vivo X3
, the upcoming smartphone by Chinese company BBK that is expected to launch as the new world thinnest smartphone, but this time it appears in a hilarious photoshoot. In an attempt to show how the Vivo X3 is razor thin, BBK decided to put it in the role of a knife slicing... a cucumber, corn and eggplant!
The 'sliced' pieces with smiley faces drawn on them lie on the side and the Vivo X3 stands triumphantly erect. Because... who wouldn't want to slice veggies with their new smartphone?
So how thin it really is? The
Vivo X3 measures merely 5.6mm thick
and it is expected to feature a 5-inch 1080p display and quad-core chip (likely of a MediaTek breed).
The Vivo X3 should make its official debut on August 22nd, and we'd happily vouch for the
"knife-phone"
name, what do you think?
source:
MTK