"Unsane" debuts at Berlin film festival; movie was completely shot using an Apple iPhone
33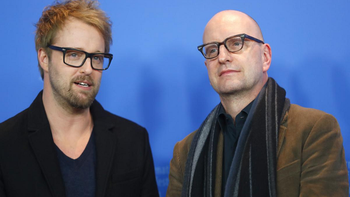 Movie director Steven Soderbergh's new movie "Unsane" was released at a film festival in Berlin on Wednesday. The film, which is a psychological thriller, was completely shot using an Apple iPhone. The director, known for movies such as "Ocean's Eleven" and "Magic Mike," was able to complete the new movie in just two weeks, about half the time it would have taken to shoot the movie using a conventional camera. Since the film was shot last summer, we can safely assume that an
Apple iPhone 7
or
Apple iPhone 7 Plus
was used.
While Soderbergh was so impressed with the iPhone that he says it will be hard to return to the traditional filmmaking methods, he did say that the handset was too sensitive to vibrations. But whatever drawbacks he faced due to the use of the iPhone were more than made up for thanks to the ease of shooting a movie with the phone. For example, no holes had to be made in the walls to accommodate a camera, and there was no need to have a camera attached to the ceiling.
The actors were also happy to see the iPhone replace the traditional camera. Joshua Leonard, who plays a stalker in the film, says that using the handset enabled the actors to stay in character longer since they didn't have to wait around "for the machine of filmmaking to catch up with the creative impulse." He also noted that since he is used to fans putting their handsets right in his face to take selfies, he didn't feel self-conscious about making a film. Leonard, by the way, can be seen in the picture at the top of this story. He's on the left, with Soderbergh on the right.
"I have to say the positives for me really were significant and it's going to be tricky to go back to a more conventional way of shooting."-Steven Soderbergh, director, Unsane
"Unsane" is a movie about a woman who leaves leaves the city where she lives to escape her stalker, David. However, she ends up admitted to a mental health facility where David works. The film is one of 400 that was screened at the festival, but it did not make it to the final 19 films battling for the top prize.
source:
Reuters