Nokia to hold press conference at MWC on February 25th
28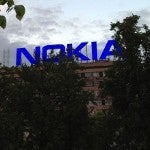 Those Nokia fans in the U.S. and Canada should be prepared to stay up late on the morning of February 25th, because that is the date of a press conference that will be held by the Finnish handset manufacturer. The event will take place at 9am Barcelona time on the first day of MWC. That translates into 3am Eastern time in the states and midnight Pacific time. We expect to hear about a number of new devices including the
Nokia Laser
which is expected to be a variant of the high-end
Nokia Lumia 920
for Verizon.
Nokia EOS
which is the
long awaited Windows Phone 8 model with the same camera sensor (41MP) found on the Nokia 808 PureView
. We've seen a lot of demand for this one, so it should go over big. Allegedly coming to AT&T later in 2013, it will have an aluminum body with square edges. And hopefully we will hear more about the
Nokia Catwalk,
which is supposed to be a slimmer successor to the Nokia Lumia 920. These are all code names, so perhaps we will find out the real moniker for each of these models during the event next month.
We're sure that there will be a lot to talk about after the press conference. It might not be as full as drama as Allen Iverson's famous "practice" press event, but we're sure it will give us plenty to digest.
source:
TheNokiaBlog