UPDATED: HTC DROID ERIS to get Q1 update to Android 2.0 or 2.1
This article contains unofficial information.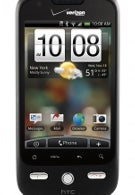 We now know that owners of the Motorola DROID will get an upgrade to Android
2.1
perhaps as soon as December 11th, as we
reported
. But what about the HTC DROID ERIS? Has that become the forgotten child? No. We're happy to say that the DROID ERIS will get its turn. Verizon spokesperson Brenda Raney said, "The Droid Eris currently usingAndroid 1.5, can and will be upgraded to newer a Android operatingsystem software in first quarter 2010. The enhancement will allowcustomers to continue to enjoy the powerful HTC Sense experience whilealso gaining the additional benefits of Google Maps Navigation." As for which build the device will be packing, Raney said that depending on the timing of the actuakl upgrade, the HTC model could end up with Android 2.0 or 2.1. The combination of an upgraded Android OS with the Sense UI should make the DROID ERIS a much more capable device than it is now, and considering the pricing of the phone, it could be quite a bargain for Verizon customers seeking more bang for their buck.
*UPDATE*:
A tipster of ours shared with us that Motorola DROID users will get the 2.0.1 update on December 11. In addition, early next year, or January 22 to be precise, both DROID and DROID ERIS users should aquire the update to version 2.1.
HTC DROID ERIS Specifications
|
Review
source:
InformationWeek