Two more Samsung Galaxy S4 ads each show off a feature of the phone
40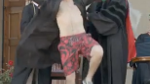 The other day, we showed you
Samsung's new full length ad for the Samsung Galaxy S4
that included the usual shots at the Apple iPhone. Judging from the feedback we received, it seems that the favorite line from the ad belonged to the Galaxy S4 user who had just sent a photo to another
Samsung Galaxy S4
user via S Beam. A woman with the
Apple iPhone 5
in her hand held her phone out, expecting to receive the tap that would transfer the picture to her phone. "
No, yours doesn't do that
," said one of the Samsung owners, leaving Ms. iPhone 5 holding her phone out in the air awkwardly. That line isn't quite the put-down line that "
Dude, you're a barista,
" turned out to be. You might remember that
Samsung even made up t-shirts with that saying on it
to be used as a contest prize.
Samsung has now added two shorter spots for the new flagship Android device. The first is a quick 15 second ad that shows a son asking his dad if he is going to switch. While it isn't said, it is implied that he is talking about swapping out an Apple iPhone for the Samsung Galaxy S4. The son must have realize that what it comes to tech, his dad is not, shall we say, hip. So junior points out "Easy mode" which limits the home screen to three panels, populated with larger than normal icons for weather, calendar, phone and messaging. It gives those not able to set up an Android phone, the ability to jump right into using the Samsung Galaxy S4.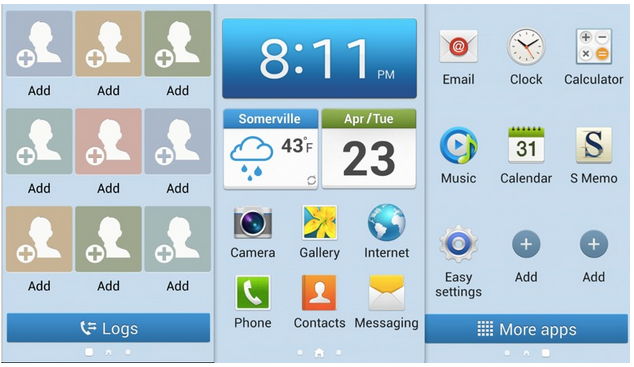 The three home page panels for Easy Mode
The second ad, a 30 second spot, shows a proud mother taking a picture of her son receiving his high school diploma when all of a sudden a half-dressed punk runs on stage and gets in the middle of the picture. A sentimental moment lost forever? Nope. Using "Eraser Shot mode" the offending idiot is easily removed from the photo, leaving a photograph that will be looked at with warm feelings for years afterward.
source: SamsungUSA (
1
), (
2
) via
RedmondPie