New Samsung Galaxy S4 ad takes the usual shots at the Apple iPhone
86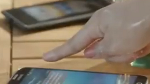 With the release of the
Samsung Galaxy S4
comes the Korean manufacturer's latest commercial for the phone, complete with the usual display of features and yes, the
usual attack
on the Apple iPhone. This time, the action takes place at a pool party being held to celebrate the graduation of a young man named Scott.
Much of the action features all of the things you can do with the Samsung Galaxy S4 without even touching the phone. Scott's hands are a greasy mess from wolfing down a plate of ribs. So when his phone rings, he swipes his hand over the screen and the gesture control answers the phone. Another Galaxy S4 user hovers her finger above the screen to use
Air View
. This allows her to read an email message without touching the 5 inch display.
Of course, there are the usual shots at Apple. A couple, each with the Samsung Galaxy S4, share a picture using S Beam. An Apple iPhone user holds out her handset, awaiting the tap that will transfer the picture to her phone. "
Can I share too?
," she eagerly asks. But she is shot down. "
No, yours doesn't do that
," is the reply from one of the Samsung users. An older man holding an Apple iPhone looks bewildered. "
So some smartphones are smarter than other smartphones
," he asks. "
What are we doing we these phones?
" he cries, looking at his iPhone with utter disdain.
Usually, Samsung does come up with the funniest ads. But it is
hard to beat Microsoft's current commercial which features the fight at the wedding
between fans of the Apple iPhone and Samsung Galaxy S4.
source:
PCMag