This free app lets you play Overwatch on your Android, Apple, or Windows phone
10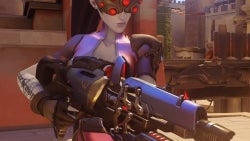 We know you want to play Overwatch on your phone, because we want to, too! Problem is, there really isn't any game on mobile that compares to Blizzard's colorful team multiplayer shooter – at least to our knowledge.
While we're waiting for Gameloft or some unscrupulous East game studio to produce an enjoyable Overwatch clone, we found a very interesting solution to having the real deal run on your Android, Apple, or Windows phone, tablet, or even TV. As with all things in life, there's a good side and a bad side to it.
The good? If you do it right, it works like a champ! Check out this video:
The bad? You still need a PC (Win, Mac, Linux). And really good Wi-Fi. And some time to setup a clever app called Remotr on both your phone and computer.
Remotr streams your video games from a server app you install on the computer, and lets you play with fully customizable touchscreen controls if you don't want to set up a gamepad. It's pretty brilliant, and also free!
To get started, grab the Remotr app for your device and install the Remotr Streamer app from
remotrapp.com
on your computer. It will automatically detect your Steam, Origin, EA, Blizzard, and Glyph games. It also comes with touchscreen control presets for many popular games that you can modify to taste.
All you gots to do now is create a Remotr account and connect the mobile app to the PC app. It's a straightforward process without any real need for explanation. Though if you have any problems, simply look up some tutorials on YouTube – there are plenty. Happy fragging!
ALSO READ