5 intense action games like Call Of Duty for Android and iOS
4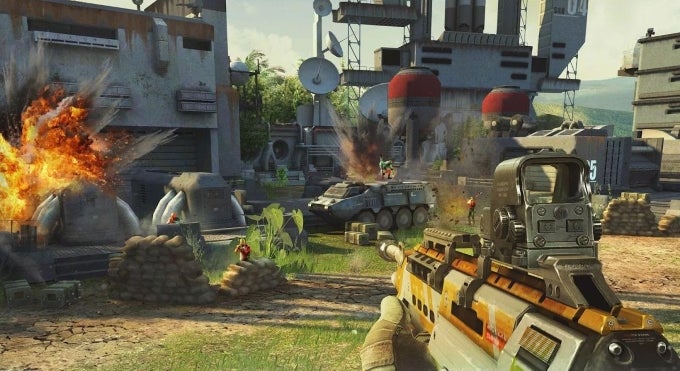 Looking for some good old shoot'em'up action on your mobile device? Well, best-selling franchise Call Of Duty has been a prolific source of inspiration for mobile game developers. Thus, there is no shortage of 3D shooters with searing visuals and fast-paced gameplay where you must aim your gun quickly and precisely.
The five games we've rounded up below all make an example of mobile shooters with their presentation and content, offering lengthy single player campaigns and plenty of terrain for lethal multiplayer battles. Featuring varied modern and futuristic settings, cutting-edge weaponry, tight controls and deep multiplayer, they are bound to satisfy your cravings for bullet-filled domination and destruction.
Battlefield Combat Black Ops 2
This cleverly named game is a first person shooter where you will fight in sniper and rifle stages set in a detailed futuristic environment. You will get to experience more than 60 combat scenarios and cinematic 3D graphics optimized for a wide variety of devices. You will also get to build and defend your own base! Finally, there's a multiplayer mode which will have you engaged in player vs player battles.
Download (free) for Android or iOS
Frontline Commando
This is a 3rd person POV title, similar in spirit to other Call Of Duty-inspired games. As the sole surviving commando after a renegade attack against a ruthless dictator, you are stranded on the frontline and ready for payback. You must use all of your specialized skills to survive the onslaught of enemy forces and avenge your fallen comrades. The game features high quality visuals, precise controls, advanced physics and destructible objects. The missions will have you use cover points to take down helicopters, jeeps, and heavily defended enemy forts. To fight the increasingly difficult waves of enemies, you will take to the battle with an artillery of assault rifles, sniper rifles, shotguns, rocket launchers, med kits, and armors.
Download (free) for Android or iOS
Modern Combat 5: Blackout
Gameloft's Modern Combat series represent the essential Call Of Duty mobile experience. Blackout, the fifth Modern Combat game, includes fast-paced story missions with various challenges that will taking you across locations such as Tokyo and Venice. There are 7 customizable classes (Assault, Heavy, Recon, Sniper, Support, Bounty Hunter, Sapper) that you can level up across the single player campaign and multiplayer battles. The multiplayer lets you play in Spectator mode or Squad vs. Squad matches, talking to other players in Global and Squad Chat, racking up scores in Individual and Squad leaderboards, and winning rewards in limited-time events. You will level up, unlock advanced weaponry, and customize guns with attachments.
Download (free) for Android or iOS
Critical Ops
C-Ops is a fast-paced FPS that will test your reflexes and tactical skill. Inspired by Call Of Duty and Counter-Strike, it lets you experience the thrill of modern terrorist warfare as you fight a critical strike operation as a counter-terrorist, or cause destruction as a terrorist. You can fight matches alongside your friends and show the world your skill by leading the individual scoreboard. Although free to play, Critical Ops is not and will never be pay-to-win. It's monetized by players purchasing camos to customize their favorite guns.
Download (free) for Android or iOS
Sniper Fury
Sniper Fury includes over 130 missions set in exotic locations. You will fight against soldiers, armored vehicles, air units, and many more enemy classes as you get to experience cool "bullet time" effects and observe your sniper headshots in slow motion. The levels will subject you to sandstorms, blizzards, rainstorms, and other atmospheric effects. You will fight your way through using sniper rifles, assault rifles, railguns, and top-secret weaponry, gathering components to upgrade and personalize your arsenal. The PvP multiplayer challenge will have you steal resources from other players by breaking down their defenses and building a strong squad to keep your loot safe.
Download (free) for Android or iOS
ALSO READ