5 Android and iOS games like League of Legends for fans of massive battles
3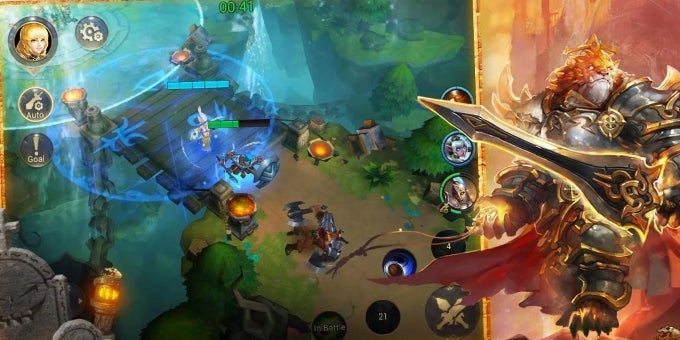 League of Legends is a famous PVP battle strategy game that's also popular as a cyber sports title. Currently, it's not available on mobile devices for some reason, but being an influential title, there are many Android and iOS games that borrow from its formula and colorful graphics style. We've rounded up five games that will bring you a comparable experience, complete with the rich visuals and massive multiplayer battles.
League of Masters
LoM offers fast-paced realtime PVP Battles against AI and other players. You must destroy the enemy towers and their sanctum to gain victory in matches that last about 5 to 10 minutes. You can also form strategic teams, hunt the giant jungle monster, and control Champions to gain leverage against the enemy.
Eternal Arena
The world of Etryna is governed by powerful magic and mighty warriors, and it's up to you to unite legions of feuding factions against an ominous enemy. The game combines fast-paced combat with dynamic strategy, letting you command a legion of heroes to save the world. There are 90 levels of character evolution, over 120 multi-tiered solo quests, and 40+ fantasy heroes to collect, equip, and command. You can access Global PvP to team up for casual or competitive 3-on-3 battles with players from your region as well.
SoulCraft
With humans on the brink to discover the secret of eternal life, angels and evil demons make a pact to proclaim the apocalypse to be able to materialize into the real world, fight the humans for victory and keep the circle of life intact. SoulCraft lets you play as an angel and indulge in lots of hack'n'slash and dungeon crawling. It features awesome, colorful graphics, combat in real locations such as Venice, Rome, Hamburg, New York & Egypt; five different game modes including time run, arena, hellgate, crystal defense and boss fights; and lots of different enemies and weapons, swords, items, spells, equipment, gear, and loot.
Legendary Heroes
Legendary Heroes is an action real-time strategy game with quick and intense matches, 4 unique special abilities per character and the ability to control 3 heroes in the same MOBA match. You must keep the leveling progress of each hero across matches and develop as many of them as you want. There are thirty maps that provide unique MOBA challenges for all players. You can also use power ups to improve your characters and make them faster, stronger or tougher.
League of Angels
Fight alongside heroes and angels in a battle against the Devil Army. Learn magic spells, fight other brave warriors, and invade the citadel of the horrific Devil Prince. You must train your favorite Angel and let it guide you along the way, battle the monsters of evil, equip your heroes with the finest gear, and assert your dominance in local and cross-server arena wars.
ALSO READ