There will be no carrier branding on the Samsung Galaxy S8 and Galaxy S8+
8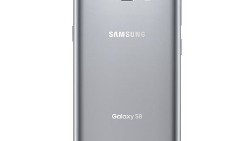 Many U.S. carriers are no longer branding their logo on the body of new handsets. The nation's largest carrier, Verizon, was considered the worse of the bunch at one time, with its distinctive check mark symbol stamped on the rear cover of many different models. The AT&T logo also has adorned the back of many high profile units, sticking out like a sore thumb. The peak of this insanity took place with the Verizon version of the
Samsung Galaxy Note II
. Not only was the Verizon logo printed nice and large on the rear cover of the screen, it
also
was printed on the phablet's home button
. That move was considered to be very controversial at the time.
Here is some news that you might consider surprising. There is no carrier branding at all on the new
Samsung Galaxy S8
and
Samsung Galaxy S8+
. Sure, both models feature splash screens with the appropriate carrier logo staring out at users from the screen. But that is nothing compared to the AT&T "ball" on the back of the
LG G6
, which is about the size of the fingerprint scanner.
Even though the Galaxy S8 and Galaxy S8+ leave plenty of room on the back for Verizon and AT&T to tattoo their logos in large print, both carriers appear to have decided that they shouldn't do anything that would mar the unique and gorgeous design of Samsung's new flagship phones. And since we've never heard a consumer argue that they wish their phone had more carrier branding, we're sure that you agree with them.
source:
TheVerge