There is a large update on its way to Android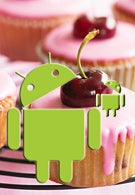 After the release of the first phone with Android OS, the
T-Mobile G1
, the users noted some significant drawbacks. A major part of them is expected to be resolved soon, since a large update, known by the codename of "cupcake", is on its way. It's going to fill the gaps and bring various improvements. We'll inform you only of the more interesting ones, because the list is rather long.
To begin with, an on-screen keypad is going to be added. It will most probably be warmly welcomed by G1 owners, since it'll be no longer necessary to open it every time they need to type something in.
The adding of an A2DP Bluetooth profile is also very pleasant, because many people use their phones for listening to music. In addition to this, there'll be yet another improvement: after hanging up, the music won't start instantly, but will nicely fade in.
The internet browser will also take advantage of the update, since it's going to feature a new core, synchronized with the November version of WebKit from 2008. Besides, the copy/paste and search functions will be present. The download manager will get some interesting features: for instance, pausing and resuming of downloads. The e-mail client will also go through some positive changes.
The camera will finally receive an option to capture videos, something that the iPhone still lacks. You'll be also able to share your videos.
It's not fully clear whether all of the improvements will come as a bundle, or in portions, but this is all expected to happen in Q1 2009.
source:
Android
via
Androidguys