The random 128 GB iPhone 6 Plus crash and reboot might be a hardware problem, tip insiders
51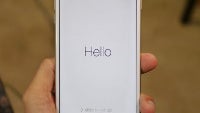 Apple's issues with the
iPhone 6 Plus
might not stop with
#bendgate
, as the
random freeze and reboot problem with the 128 GB version
seems to be rooted in the hardware itself, rather than the memory management software. Industry sources are pointing out that there might be a problem with the memory controller.
The issue seems to be that Apple isn't using the most stable internal storage memory, but the intricately dense triple-level cell (TLC) NAND flash in the 128 GB version. TLC flash can store much more information than single-level cell (SLC) or a multi-level cell (MLC) solid-state flash, but is more volatile, and more prone to errors. It is more affordable, though, and that might be the reason Apple went with it for its most memorable version of the 6 Plus, instead of MLC, like on most other iDevices.
There are plenty of reports for unstable read performance of Samsung SSDs equipped with said TLC controller, so if that is indeed the reason for the freezing and random reboots of the 128 GB iPhone 6 Plus, those units, or the entire batch, might have to be recalled by Apple. For now, customers who complain about such problems, are getting their handsets replaced in Apple Stores, but the industry insiders think this might become a wider issue, as
the 6 Plus has proved way more popular than everyone, including Apple
, expected it to be.