The evolution of Google Glass
7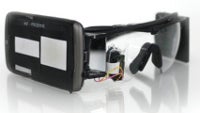 It's been nearly two years since
Google unveiled its Project Glass wearable computer
, and while we do have more and more 'explorers' (as Google calls them) join in to beta-test Glass, the product is not available on store shelves yet. We do expect this to happen in the near future, though, and now, Google has stood up to officially debunk some myths about Glass. Along the way, it has also revealed the staggering evolution of the design of Glass.
The six images (that the search giant posted on Google Plus) depict how Glass went from a bulky Frankenstein of a machine to the elegant frame that you know now. Google actually claims it took it two years of iterations on design to arrive at the final one.
It seems that some key elements of Glass were there from the get-go: things like the touchpad on the frame on the right, the unique Prism projector display and the built-in camera are on all of the prototypes. At the same time, there is one part that changes hugely with almost every protototype, and it is the frame, of course.
We can only guess how the further evolution of Glass will go. Right now, the biggest question regarding the ambitious Google project is when (and whether) it'd launch, and at what price. We've earlier heard
speculations about a $600 starting price
, and if we had to guess about a Google Glass release date, we'd say
Google I/O this summer
. What do you think: is Glass coming to store shelves soon, and do you want it to?