The dual-core Samsung Orion chipset shows up in a tablet form
4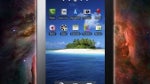 At the ARM holdings symposium in Taipei yesterday, Samsung has showcased the internals of an upcoming tablet, and they were based on
its own Orion chipset
. The dual-core beast is based on ARM's next-gen Cortex-A9 architecture (all current phones are based on Cortex-A8), and supports full HD video recording and playback.
This 1080p video playback can occur on two screens of the device itself, and an external one simultaneously, thanks to the quad-core Mali 400 graphics processor. As usual, the new chipsets come in a small package and with reduced battery consumption, compared to today's silicon.
The graphics capabilities are said to be five times those of the current mobile 3D king - Samsung's own Hummingbird chipset, which puts Orion on par with current generation gaming consoles, such as the Xbox 360, and the PlayStation 3, and also with the
latest Snapdragon chipset
.
Phones and tablets with the fourth generation Snapdragon, however, won't appear before 2012, while Samsung Orion will finish sampling by the end of this year, meaning that we will see it in
mind-blowing phones
and tablets as early as next year. The cherry on the cake? Samsung will be able to produce 7"
Super AMOLED screens of next generation
by the summer of 2011, which will probably end up in the thinnest and lightest tablets the world has seen.
Unfortunately, the rumored 10-incher in the Galaxy line will have to make do with a TFT-LCD display, similar to the one on the
Samsung Galaxy Tab
, as nothing is yet heard for mass production of Super AMOLED displays bigger than seven inches. Still, next year cannot come soon enough.
source:
DigiTimes
Recommended Stories