Expect to see Samsung tablets with Super AMOLED panels some time next year
1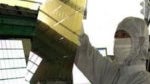 Without question, we'd imagine that people would've been extremely blown away if the current lineup of Samsung Galaxy Tab units were sporting the manufacturer's fancy looking Super AMOLED panels. But now that we're seeing some concrete pricing on them, we probably all realize now why Samsung decided to stick with TFT displays.
However, those who were hoping to see a miniaturized Samsung Galaxy S have something to look forward to next year since Samsung announced today the start of production for 7" AMOLED displays. Even though the manufacturing giant stated that "TFT is a little more optimized than Super AMOLED in terms of power consumption," naturally the bigger concern in the greater scheme of things is its downright pricing. Now that we're all situated with the Galaxy Tab's pricing, it would've been almost unimaginable to figure out the cost of a tablet employing a Super AMOLED display.
Luckily, production on these upcoming 7" AMOLED displays will be starting in June 2011 and will boast a resolution of 1200 x 600 pixels – which is a slight step up from the exiting 1024 x 600. Sure it's scary to fathom what the cost is in producing these displays right now, but come 7 months down the road, it would undoubtedly lessen by then to cut the production cost of creating a new tablet – making it seemingly more affordable.
via
Gizmodo
Recommended Stories