The best new dual SIM Android phones
37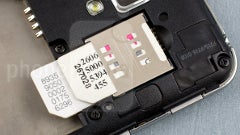 Phones that can maintain two carrier network connections at once have been around for a while, but haven't seen mass adoption anywhere but emerging markets, where those are very, very popular. So popular that there are local brands you've never heard of that make boatloads of them.
The reason they haven't been very popular in developed markets are the usual lengthy contracts carriers here shackle you with, and the fact that they've mainly been feature phones so far. As everything else in the mobile world, the recent onslaught of dual SIM phones with Android is about to change the perception about those humble work horses that
let you
balance two network connections simultaneously
.
If you want to take advantage of two good carrier plans at once, use one number for family and friends and another for work, or simply can't resist that great new data plan, but your contract still has mileage left in it, a decent dual SIM phone might come to the rescue, and, with Android, you don't have to sacrifice on apps and features anymore, too.
That's why we've rounded up a few freshly announced brand-name dual SIM Android handsets in the slideshow below to help with your choice when one Subscriber Identity Module just won't cut it. All of these with maybe the exception of the
HTC Desire 600
, should be hovering in the sub-$300 price range without a contract, making them very affordable, too.