The Note that never were: check out the 'flat' Note 7 prototype that got 86'd
26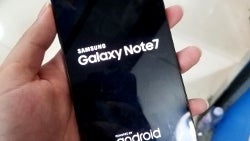 "Oh, the places you'll go!", sang Dr Seuss, and this exclamation could very well be attributed to the
Galaxy Note 7
and its
prototype with flat display
. While it is unlikely that the flat version will hit retail, if we agree with most of the speculation swirling around the phone, as well as analyst opinions, it is still nice to see it in action, and the pictures below are a rare glimpse into exactly that - an alleged "flat" Note 7 powering up.
Recently, Evan Blass of @evleaks fame
penned a magnum opus
on why the Note 7 will be a trailblazing moment for Samsung as it will be the first major line of phones available with curved flexible display only. You, however, aren't as enthusiastic that there won't be a flat screen model, as just recently we made a poll to ask you whether you are fine with the lack of choice, and a lot of you wanted to have a pick from both versions. Anyways, take a peak at what the Note 7 could have been - wider.