Canceled prototype shows us what a flat-screened Samsung Galaxy Note 7 might have looked like
20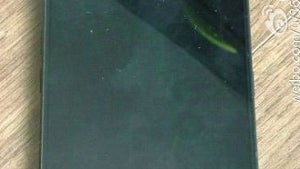 By now, we are convinced that the Galaxy Note 7 will arrive on August 2 with a curved display in tow, which might not be just everyone's cup of tea if one of
our recent polls
are taken into account.
There is still a chance that Samsung might release two versions of the Note 7, but judging by all the leaks we've been treated to so far, the chances are thinning by the minute.
But have you wondered what a flat-screen Note 7 might look like if Samsung decided to make one?
Well, guess what -- the rumor mill never ceases to amaze us as it usually delivers tons of leaks to sate our hunger for information.
A leak allegedly showing a flat-screen Note 7 prototype has just surfaced and it is indeed giving us a glimpse as to what a more traditional Note 7 could have looked like. There is an iris scanner visible at the front, which corroborates that this could indeed be a scrapped Note 7 prototype.
As all facts point that this prototype has indeed been 86'd, so we wouldn't keep our hopes up for it -- Samsung and a large portion of the consumer base are obviously keen on curved 'edge' displays, so it's logical to assume that these will be getting more and more prominent.
Anyway, we'll definitely add this new picture to our cache of leaked Note 7 pre-production units. Gotta catch 'em all!
In case there's something about the Note 7 that you don't know, check out our rumor review and fill in the blanks!