The "Muskie," HTC's original version of the Pixel 2 XL, surfaces on the AOSP
11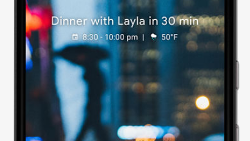 HTC was the manufacturer of the original
Pixel
and
Pixel XL
. When rumors first broke about a pair of sequels, it was assumed that HTC would once again be behind both phones. In fact, the original
Pixel 2 XL
sported a code name of "Muskie." In June,
this model was dropped by Google
, and replaced by a larger screened unit code named "Taimen." There is some indication that HTC was behind the "Muskie." The "Taimen" was produced by LG, and it would seem that the latter made a late (albeit successful) bid to replace HTC as manufacturer of the
Pixel 2 XL
.
There are some interesting differences between the HTC made "Muskie" and LG's "Taimen." Of course, it is LG's phone that we all know today as the Pixel 2 XL. But HTC's "Muskie" would have offered users a larger 3830 mAh battery instead of the 3520mAh cell that LG employs on the Pixel 2 XL.
The "Muskie" showed up the other day in the AOSP, according to XDA. Not only did the larger capacity battery appear, other files also revealed that the screen on the "Muskie" carried the same 560 DPI found on LG's "Taimen." And perhaps even more interesting, the Muskie carried the Pixel Visual Core, which is the custom chipset for image processing that kicks in on the new Pixel models once Android 8.1 is installed.
The buzz around the water cooler is that LG ended up with the gig because its version of the Pixel 2 XL carries a larger panel than the display that HTC's "Muskie" was packing before it received its pink slip.
source:
XDA
via
Phandroid
Recommended Stories