The Motorola Moto X makes Google CEO Larry Page feel excited
14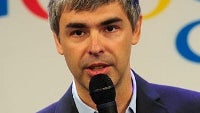 Judging from the excitement we see everytime we report something new about the
Motorola Moto X
, there are plenty of our readers who are really looking forward to seeing what this handset can do. We're not not necessarily talking about specs, but in terms of customization. And then there are those sensors that are supposed to know where you are and what you are doing. This allows the Moto X to do things like automatically turn on the speakerphone when the phone is being used by the driver of a car. We've already seen
the hand twist that gets the camera application open
.
Another person closer to the device that is also excited is Google CEO Larry Page. During
Thursday's conference call following Google's earnings
report, Page said that he was
excited about the device
, but would not elaborate. When asked about
the $500 million advertising campaign for the phone
, the executive said, "
I think we're doing things that are normal for that business."
He did think that too much discussion had been made over the cost of the ads. Page said that even though Motorola is a wholly owned Google subsidiary, it is an independent company and said, "I think they're working hard on making good products, we're really excited about it, they're excited about it." He added that, "
you'll get to try it out really soon
."
Earlier Thursday,
Motorola shared a picture of the phone coming off a U.S. assembly line
. "
Yep. This guy is building exactly what you think he is. Designed by you. Assembled in the USA
," read the caption, reiterating the news that the Moto X is the first smartphone assembled completely in the U.S.
source:
PCMag