HTC Ruby pops up online again; runs Android and bears a T-Mobile logo
5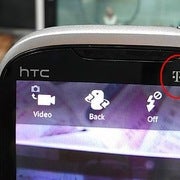 When the so-called
HTC Ruby made its first appearance online
, there was pretty much nothing that we could tell about it besides that it had a 3.5-millimeter headphone socket and a camera of some sort on its back. However, the mystery behind the smartphone is slowly starting to unfold as even more images of the HTC Ruby have been spotted on Flickr.
Luckily, the newly uploaded photos are a bit more revealing than the old ones. One of the most important hints that we now have is that
the HTC Ruby carries a T-Mobile logo on its front side
, which is easily distinguishable with a naked eye even though most of it has been left out of the frame. Besides that, the camera interface that is visible on the device's display suggests that
the Ruby is most likely powered by Android
and not by Windows Phone, as it was previously believed by some.
the identity of the HTC Ruby cannot be 100% confirmed
just yet and we cannot say for sure whether it will ever join T-Mobile's lineup of smartphones. You see, just because the photos of the smartphone have been taken and tagged by a device known as "HTC Ruby", does not guarantee that it is another Ruby that is posing for the camera. However, we do remember seeing a pair of handsets in the smartphone's previous leak. Furthermore, the device that was used to take the new photos is visible in the reflection off of an HTC Flyer's screen and looks pretty much identical to the smartphone from last time.
Will the mysterious HTC Ruby ever reveal itself once again? Be sure that we will keep an eye on it and will let you know as soon as we find out more about it.
source: Flickr via
TmoNews