The Havok game physics engine for Android demoed on the Sony Ericsson Xperia Play
6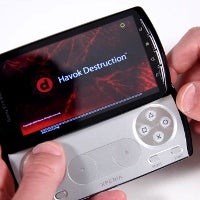 Known for powering Fallout: New Vegas and Assassin's Creed Brotherhood, the
Havok physics engine
will be making a cameo appearance on Android, with the game-centered
Sony Ericsson Xperia Play
being its Trojan Horse.
"
As part of Havok's overall support for the Android™ platform, we are very pleased to partner with Sony Ericsson to put the full power of the Havok product line into the hands of Xperia™ PLAY developers. We were extremely impressed by the performance of the Xperia™ PLAY and the ease with which we were able to port and optimise our technology to the platform. This will enable developers to use Havok technology to create cinematic, rich 3-D immersive games for Android™ smartphones with Xperia™ PLAY in the forefront.
", said the Managing director at Havok.
The Sony Ericsson Xperia Play might not have a dual-core chipset, but it is shaping to be a very interesting and pampered Android device. With a special place reserved for
Xperia Play-optimized games
on Android Market, and joint-ventures worthy of developers' attention like this cooperation with Havok, the
Spring release
does look full of promise, so we can't wait to see this baby on
Verizon
and
the rest
around May.
Have a look at Sony Ericsson's video demo below, and dream for the moment when you can slingshot gorillas across a football stadium on your Xperia Play.
source:
Havoc
via
Electricpig