Dear Galaxy Note 9, you won't come with a 7nm chipset, but we'll still love you
16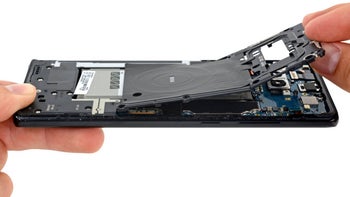 The red square won't house a 7nm chipset in Note 9
Additionally, Samsung informed us that the 10nm LPP chips are being churned out by its new S3 factory in Korea, but simply that the "
7nm FinFET process technology with EUV (Extreme Ultra Violet) will also be mass produced at S3
," not falling into any kind of timetable promises. At the time, we simply assumed that this means the 8nm LPP node will follow the Snapdragon 845 and Exynos 9810 in mass production later this year, too, either simultaneously with the 7nm EUV, or before it.
Well, Samsung shattered all our dreams for a groundbreaking 7nm chipset in the Note 9 with a single press release that laid out its 2018 strategy across all departments. "
In the first quarter, earnings are expected to rise on the ramp-up of 2nd generation 10nm process products for this year's flagship smartphones
," says Samsung. Yet, when it comes to lower production nodes, 7nm is out of the mass production strategy this year, it seems.
"
In 2018, Samsung will provide 8nm and 11nm processes to meet customers' needs and start a risk production of 7-nano
." The so-called 7nm risk production is something that TSMC
started last year
, and it is allegedly the foundry that will
make Apple's upcoming A12 chipset
. There is thus a big chance that the
iPhone 9, Xs and Xs Plus
will beat the Note 9 when it comes to chipsets, unless Samsung's phablet
ships with an 8nm processor
, which will pretty much be equivalent to whatever TSMC churns out at 7nm.
Industry analysts are expecting that Samsung's 8nm node "
is a relaxed version of their 7nm using multiple patterning
." In layman's terms, this means that when Samsung starts mass production of 7nm chipsets, they will more than likely be with a superior power draw/performance ratio, compared to other foundries' 7nm silicon, while the 8nm that will be produced in H2, will be roughly equivalent.
You see, after hitting 10nm, the die shrink of processor production becomes very dicey, to the point that both 10nm, and 7/8nm, will be with us for a looong time, and we might finally see the race to issue new nodes every year come to an end in 2018, as exemplified by the S9.
Moreover, all 7nm processes aren't created equal, and Samsung's EUV lithography is more advanced than TSMC's traditional optical one, which is nearing the limit of its capabilities.

This might explain why Apple is rumored to
return to Samsung
for its processor-making needs at some point, just not this year, it seems. In any case, unless Samsung surprises our summer with
8nm Snapdragon or Exynos
, tailor-made for the Note 9, the phablet should still land with the S9 chippery.
As for those 7nm wet dreams - well, when it comes, that node will be here to stay for the foreseeable future, so you'll have plenty of time to enjoy it in the next few years. Going to 5nm will stay prohibitively expensive to do in mass numbers, plus today's chipsets are so fast already, that phone makers are focusing on adding value features like AI or 4K 60fps recording, rather than chasing die shrinks. Still, 8nm Note 9, pretty please.
Recommended Stories