TSMC is already prototyping 7nm chips scheduled for production in early 2018
12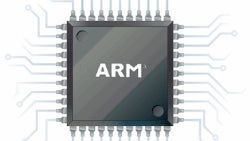 Together with Samsung and Intel, processor production powerhouse TSMC is currently pushing 10nm chipsets for this year's high-end mobile devices. But TSMC is reportedly ready to tackle 7nm chips as early as this year's second half before entering full production in early 2018. TSMC is at the stage of handling "Tape out" – the last step in the design process for the prototype chip before commencing mass production. However, it's not unusual for additional revisions to be made after tape out is complete, and before the chips are manufactured at scale.
Customers interested in TSMC's 7nm chips include the likes of Qualcomm, Xilinx, and Nvidia. Apple is a likely potential candidate as well, seeing that the Taiwanese chip maker is reportedly tasked with producing 10nm chips for this year's iPhones. Current iPhone and iPad models utilize 16nm chips. The switch to 10nm will alow for smaller and more power-efficient microprocessors.
TSMC is expected to share more 7nm process progress information at the company's upcoming investor conference on January 15.
ALSO READ